<![CDATA[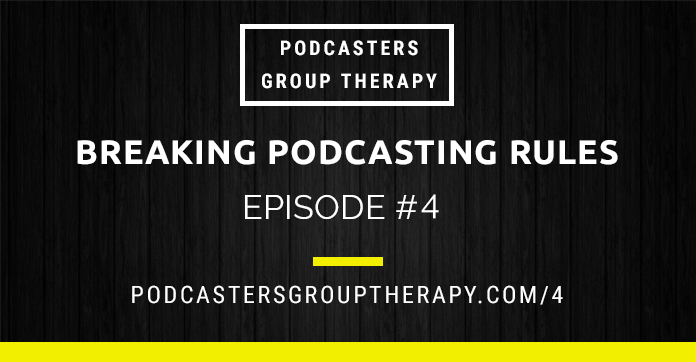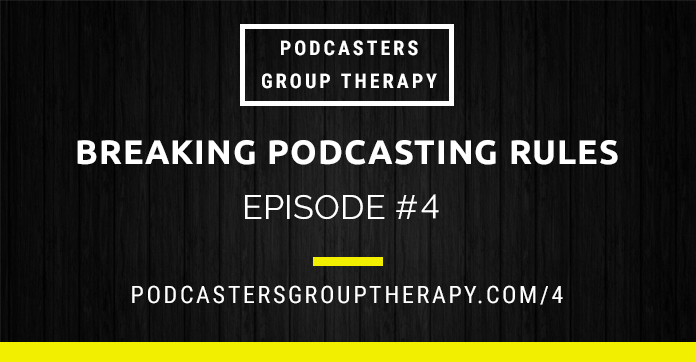 Welcome to the 4th episode of Podcasters Group Therapy. On this episode, we're talking about breaking the podcasting rules and practices that the experts say you should adhere to. Podcasting is about doing what you want, how you want and so we're talking about doing your own thing.
The News in Podcasting
Podcasters in our Google+ Community have 10 podcasts that are finalists in the 10th Annual Podcast Awards.

BEST PRODUCED
ONCE Podcast – hosted by Daniel J. Lewis, edited by John Bukenas, Noodle.Mx Network
There has been some recent news about the future of G+ and we discuss the impact this could have on podcasters.  We focus on G+ Communities (since that's where this group is based) and Hangouts/Hangouts On Air, since a lot of podcasters use that service to record with hosts in other locations and to live broadcast.
We have a ticket to New Media Expo to give away!  To enter to win this ticket, we'd like to hear you finish the following statement: "I love podcasting because…"  You can submit your entries in audio or email form.  Email [email protected].  The cut-off for entries is 11:59pm Eastern on Monday, March 9th.  Last week we talked about NMX and now we'd like to get you in the door!
Breaking Podcasting Rules
Podcasting is a medium that allows for a lot of creativity. When you decide you want to podcast and buy your domain, hosting or microphone, you aren't delivered a podcasting rule book. The idea of this episode is that we want to talk about the things that we do that fly in the face of the podcasting experts and the conventional wisdom.
Tawny – Swearing and Sound Quality.
Nick – Self Hosting his audio
Corey – No Mailing List. Condenser Microphones. Use of Licensed Music.
We also have some great feedback from podcasters in our Google+ community that talk about how they do their own thing. Albie Burdge from The Quantum Leap Podcast tells us why he compresses his audio at a higher quality than most experts would suggest. He also explains that his podcast episodes are significantly longer than conventional wisdom tells us episodes should be.
Bob Zerull from I Hate Critics Podcast does his own thing by not niching down. He also calls podcasting "punk rock" because you can do your own thing.
Dave Jackson from The School of Podcasting talks about a unique interviewing style he has that would probably go against any professional opinions on how to conduct interviews.
JD Sutter from Porchlight Family Media shares that he does his own thing by not adhering to a weekly schedule, but instead releases podcast episodes once a month.
App/Service of the Week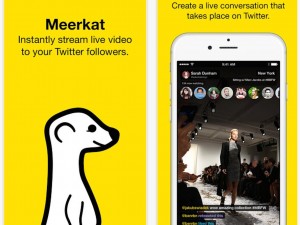 This week, Corey talks about Meerkat which allows you to stream live video from your phone to Twitter. Simply open the app and click "Stream" and your Twitter followers will be notified that you are live broadcasting. Viewers can ask questions that are displayed on your screen. When you end the broadcast, you are able to save your video, but the video is not available to the public unless you post it on YouTube, your website or any other location.
This is a really interesting way to connect with your audience. The three of us talk about how we might use Meerkat with our podcasts.
Picks of the Week
Nick – Comments on his statement last week about "podcasting" on Soundcloud with no RSS feed.
Tawny – Invisibilia, especially the "How to Become Batman" episode.
Corey – Pod on Pod
Next Week on Podcasters Group Therapy
On the 5th episode of Podcasters Group Therapy, we're going to be talking about our podcasts' avatars. We're also going to workshop during this episode and try to create an avatar for this podcast. We want to hear about your podcast's avatar. Do you have one? How did you decide what your podcast's avatar is? After our discussion on this episode about doing your own thing, do you NEED an avatar for your podcast? We want to hear from you, send your audio clips to [email protected].

The post Breaking Podcasting Rules – #4 appeared first on Podcasters' Group Therapy.

]]>