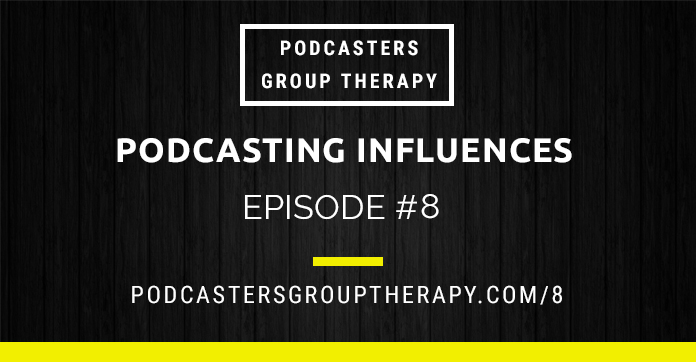 Podcast: Play in new window | Download | Embed
Most podcasters don't have formal training before they get behind their microphones for the first time. We learned and were influenced by people who were already podcasting. We all have our podcasting influences. On this episode of Podcasters Group Therapy, we are joined by the Director of Podcasting for
New Media Expo
and the man behind
The School of Podcasting
, Dave Jackson.
News
Regional one-day podcasting conferences are starting to pop up, and the group responsible for most of them is the Podcast Movement guys, Jared Easley and Dan Franks.
Podcast Midwest was recently announced.  This will be taking place in Chicago, Illinois on May 23rd, 2015.  Jared and Dan will be hosting the event and a few speakers have been announced: Colt Cabana, Vernon Foster and co-host of this podcast, Corey Fineran.  Early-bird tickets are now on sale at the website.
Podcamp Western Massachusetts is scheduled for April 25, 2015.
There will be other regional podcast conferences announced and when they are, we'll share them here on Podcasters Group Therapy.
Podcasting Influences
For the main portion of this week's episode, we're talking about the people that have influenced as podcasters. We are grateful that Dave Jackson took time out of his busy schedule to discuss this topic. We each share our podcasting influences and we play a listener clip that Bob Zerull from the I Hate Critics Podcast.
With New Media Expo just a few weeks away, we use this opportunity to talk about the conference with Dave, who is the Director of Podcasting for NMX. He highlights a few of the sessions in the Podcasting Track that you will not want to miss. He also gives some tips to people that will be attending the conference for the first time.
App/Service of the Week
We're not talking about Meerkat! But, we're talking about Periscope, which is Meerkat's competitor. Nick and Corey both game Periscope a couple of test-runs and had some issues. We share our thoughts on Periscope and hope to never talk about Twitter video streaming apps again.
Picks of the Week
Tawny – One Bad Mother Podcast
Nick – About Sports Radio
Corey – The Houston Baseball Coach Podcast
On Next Week's Episode
Next week, we're talking about listener reviews. Why would a podcast want them? How do you get your listeners to leave you reviews? What do you do when you get a bad review? We'll cover all of these topics and more, next week. Have you found creative ways to encourage listeners to leave you reviews? Have you received a bad review? How did you handle it? We'd like to hear from you. You can send us an audio clip to [email protected] or you can call our voicemail line – (309) 517-0624.
PGT on Google+
The next Podcasters Group Therapy Hangout session is Monday, April 6th. Join our Google+ Community to participate. Let's hang out and talk podcasting.