Podcasting Workflows – #2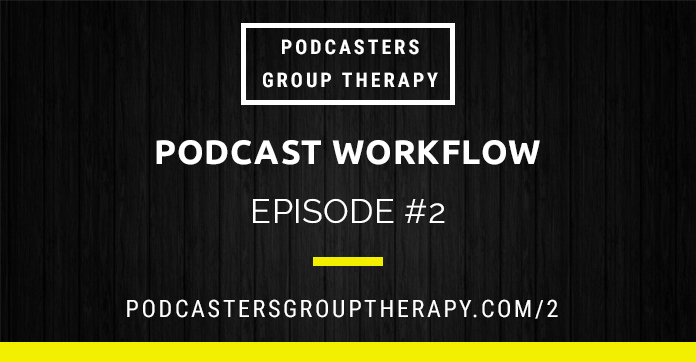 Podcast: Play in new window | Download | Embed
On this episode of Podcasters Group Therapy, we are talking about our own personal podcasting workflows. One of the beautiful things about podcasting is that you have total control over your show. You can talk about any topic, record for any length of time, release whenever you want and you can record your episode in the way that best suits you.
The News in Podcasting
In the news portion of this episode, we talk about the announcement of The Academy of Podcasters Awards. The Academy of Podcasters Awards is presented by Podcast Movement and Stitcher. The ceremony for these awards will be held in Fort Worth, Texas on July 31st, the night before Podcast Movement starts. We talk about both the Podcast Awards and The Academy of Podcasters Awards, comparing the two and discussing the difference between these two awards.
Podcasting Workflows
Each of us have a different podcasting workflow, which we define as topic development to socially sharing the episode. We cover everything from 5 minute episodes recorded entirely on BossJock and don't have show-notes to regular long-form 45-60 minute episodes to video podcast production. We also each explain how we include co-hosts in the recording. Two of our podcasts also involve live broadcasts and we describe that set-up, too.
We'd love to hear what your podcasting workflow is? What services and equipment do you use to produce your episodes?
App/Service of the Week
This week, Corey talks about Twitter Analytics. Twitter Analytics is a great way to measure the effectiveness of your Twitter strategy. By displaying the impressions, engagements and engagement rate, you are able to determine what types of tweets are most appealing to your followers. This information would be crucial if you are an entrepreneur using your podcast and your Twitter account to sell a product or service. Even if you're a hobbyist podcaster though, if you're going to use Twitter, you want to be effective with it and serve your followers in the best way possible, so I think Twitter Analytics is useful to anyone that has a strategy with their Twitter account.
Picks of the Week
Tawny – I Hate Critics Podcast episode on 50 Shades of Grey
Nick – NeoSounds.com
Corey – The Walking Deadcast
Next week, we'll be talking about podcasting conferences. Why should you attend conferences? If you can only go to one podcast conference, which should you go to? We'll discuss these topics and many more on next week's episode of Podcasters Group Therapy.
Follow Nick on Twitter – @NickSeuberling
Follow Corey on Twitter – @CoreyFineran
Follow Tawny on Twitter – @tawny_lynne