Podcasting Stats – #13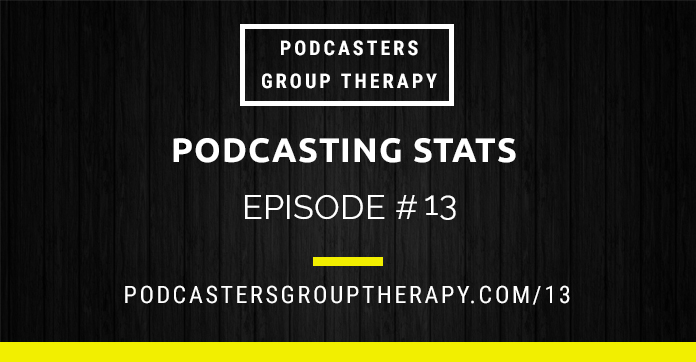 Podcast: Play in new window | Download | Embed
On this week's episode of Podcasters Group Therapy, we're talking about a dirty word for podcasters, podcasting stats.
News
Spotify is jumping into the podcast game, apparently to compete with iTunes and their new music streaming service. The three of us use Spotify and talk about what this means as a Spotify user and also as a podcasters.
Listener Feedback
We have a few pieces of voicemail to play. These both slipped through the cracks. Gary from KiwiMana Podcast (a beekeeping podcast from New Zealand) calls in to talk about feedback from listeners and how how they use that feedback with their show. Jeffrey K Holbrook from Daggers of the Mind agrees with Dave Jackson that Tawny is the PGT secret sauce, and then he gives us a nice audio bumper to use.
Stats
One of the dirty words for podcasters is podcasting stats. The three of us talk about our philosophies with statistics. We talk about what stats services we use, how often we look at stats and what we do with the data.
Derek from Gotham TV Podcast and Defenders TV Podcast talks about some of the issues he has with stats for his podcast.
Troy from Packers Fan Podcast, The Blacklist Exposed Podcast and Under the Dome Radio and has an interesting strategy with stats and we decide to try his strategy with this episode.
Service of the Week
Tawny provides us with a service of the week on this episode and it's Prezi. Prezi is a visually stimulating alternative to PowerPoint or Keynote. Corey uses Prezi quite a bit for work. If you'd like to see a Prezi in action, check out this video that Corey did, teaching high school students how to fill out tax forms for their first job.
Corey and Tawny will both be using Prezi for their presentations at Podcast Midwest.
Picks of the Week
Tawny – Voice Over Journey Podcast
Corey – The Truth: Can you help me find my mom?
Nick – Profitcast