Podcasting Copyright Issues – #17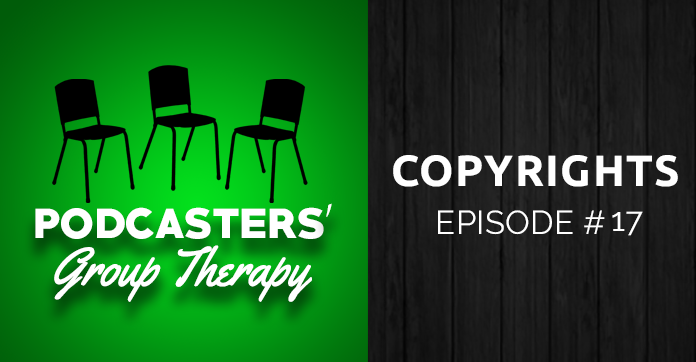 On this episode of Podcasters Group Therapy, we tackle the topic of podcasting copyright issues. Even amateur podcasters need to be aware of these issues.
News
Podcast Movement is less than a month away! The three of us will be headed to Fort Worth, Texas at the end of the month and if you are too, we want to hang out.
Nick shares exactly HOW popular President Obama's conversation with Mark Maron was.
Corey hates Stitcher.
Meet-up Tip
Corey was on the road with the family and while on the road, teamed up with another group of Cubs fans to host an Ivy Envy meet-up. He talks about the benefits of combining meet-ups with other communities.
Copyright Issues
The three of us are considered hobbyist podcasters, and we each have made changes with how we use copyrighted materials. Some of our changes were forced and some were precautionary moves. We talk about the different types of copyrighted materials you could knowingly or unknowingly be using on your podcast and we talk about how to avoid some of these issues.
Nick was actually served a cease-and-desist letter by the NFL and he shares how extreme their interpretation of copyrights is. If you want to avoid messy situations later, this would be a good episode to listen to.
Service of the Week
A number of episodes ago, Corey talked about how he was going to use Bossjock for his daily podcast. He talks about how he has adapted to the service and what he likes/dislikes about Bossjock.
Picks of the Week:
Tawny: The Truth: Remember the Baby
Corey: Vegetarian Zen #106
Nick: Podcast Junkies
Podcast: Play in new window | Download | Embed