Podcast Reviews – #9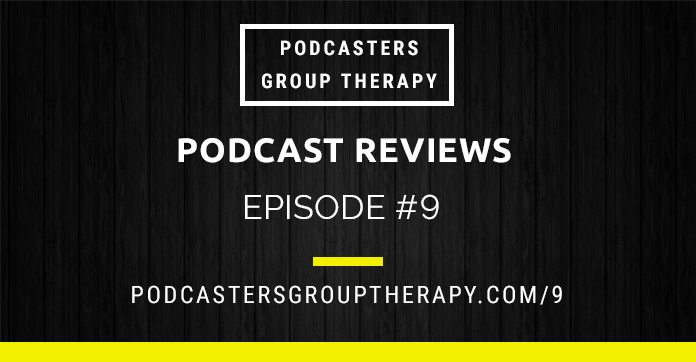 Podcast: Play in new window | Download | Embed
On this week's episode of Podcasters Group Therapy, we're talking about Podcast Reviews. Why do we want them? How do we get them? What do we do with them once we have them? How do we handle negative reviews? We'll cover all of those questions on this episode.
News
Episode #10 of PGT will be recorded at New Media Expo, whether it's on Podcast Alley or in the corner somewhere. Nick and Corey will be at NMX and if you'd like to join them for episode #10, follow them on Twitter for more information. @NickSeuberling and @CoreyFineran are their Twitter handles.
Podcast Reviews
Reviews for your podcast are beneficial for a few reasons.
They improve your visibility in the rankings in the different podcast directories, like iTunes.
They improve your credibility.  If someone is searching a certain topic in a podcast directory, one with more reviews will appear more credible.
They make us "feel so good."
In this conversation, we discuss these ideas and share our strategies for encouraging listeners to leave us reviews. Tawny talks about an iTunes review campaign that Mommy's Cocktail Hour did, and the events that led to that campaign.
We also get into negative reviews. The three of us have each received negative reviews, sometimes complaints with the podcast and someone personal attacks on individual hosts. We talk about how we have handled these in the past and what we've learned from them.
App/Service of the Week
Since we are discussing reviews, Corey talks about a fantastic service that collects your reviews and delivers them to your email inbox once a week. My Podcast Reviews is a service developed by Daniel J Lewis from The Audacity to Podcast. This is an affordable and easy way to see what your listeners are saying about you. Corey has an affiliate link for the service – My Podcast Reviews
Nick talks about the TuneIn app. This is another place that people might find your podcast, but TuneIn does not pull from iTunes. If you'd like to be listed in the TuneIn app, you will need to submit your podcast to them and Nick explains how to do that.
Picks of the Week
Tawny – Satellite Sisters
Nick – Best of Friends Podcast
Corey – Kasper Hauser Podcast
Next Week's Episode
As mentioned, Episode #10 of Podcasters Group Therapy will be recorded at New Media Expo in Las Vegas next week. If you're going to be at the conference, we'd love to talk podcasting with you on the episode.