Hosting Meet-Ups for Your Podcast – #7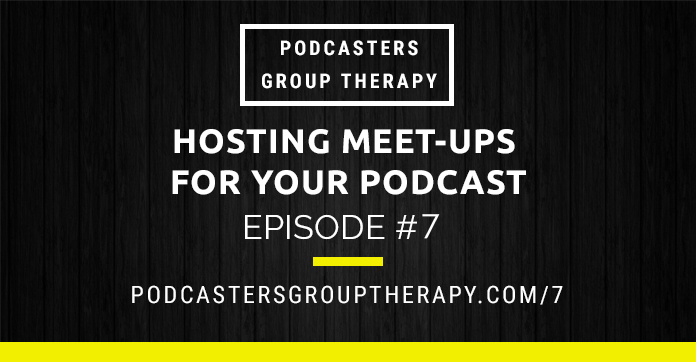 Podcast: Play in new window | Download | Embed
As podcasters, we spend a great deal of time building and engaging with our communities. Since this is an online world, most of these interactions are typically online. But, some of the best socializing you can do with your audience is in person. On this week's episode of Podcasters Group Therapy, we're talking about hosting meet-ups for your podcast.
News
Corey talks about his trip to Arizona (and Colorado) on behalf of his podcast, Ivy Envy. He talks about using Meerkat to conduct a Reddit AMA style session. He and his co-host Andy Round also had the opportunity to serve as audio engineers for the Cubs radio broadcast for a game and he talks about how that came about.
The Podcast Awards voting is over!!!
New Media Expo is just a few weeks away.  Nick and Corey will be presenting at NMX and tell you what they will be presenting on and when you can attend those sessions.
Hosting Meet-ups for your Podcast
One of the best community building activities you can do with your podcast is to host a meet-up. In this discussion, we talk about why podcasters may want to host a meet-up. We talk about our own experiences with meet-ups with our podcasts. Corey has hosted a number of meet-ups, as recently as last week. Tawny tells us about social media meet-ups that can accomplish the same results as an in-person meet-up. Nick has his first official meet-up for his podcast,
Inside the Jungle
in April.
We also look at some of the concerns a podcaster might have about hosting a meet-up and address some of the things that might be holding podcasters back. What if nobody shows up? Well, we talk about that. Meet-ups also don't have to be a big production. We talk about keeping it simple and really focusing on the benefit of hosting meet-ups for your podcast.
App/Service of the Week
This week, Tawny talks about A Beautiful Mess, which is available on iOS and Android. This is a really powerful image editing app that will allow you to create impactful images for your podcast. If you don't have Photoshop skills, A Beautiful Mess allows you to do create brand consistency with your images. Check the app out and if you'd like to see how Tawny's podcast, Mommy's Cocktail Hour uses it, check out their Instagram – @MommysCocktailHour.
Picks of the Week
Tawny – Simple Life Together
Nick – Wirecast
Corey – The World of Phil Hendrie
Next Week's Episode
Next week, we will be talking about podcasting influences. We're going to share who helped shape us as podcasters. We'd love to hear who your podcasting influences are. Record an audio clip and send it to [email protected] or call our voicemail line – (309) 517-0624.