Good Interview Tips – #23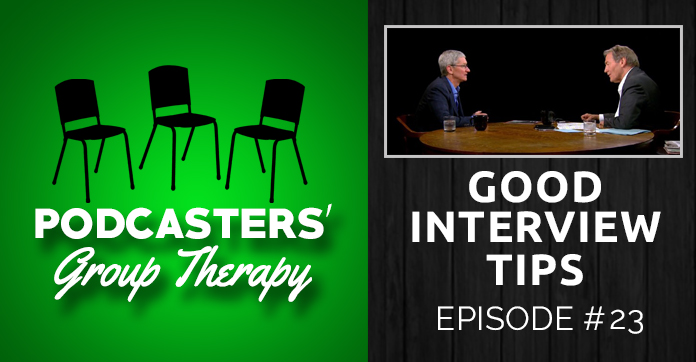 Podcast: Play in new window | Download | Embed
Interviews are a great way for you to help bring exposure to your podcast. If not done properly they could damage your reputation. On this episode of PGT, we offer up our best tips and techniques for recording quality, professional sounding interviews.
News
The Los Angeles Podcast Festival is coming up Sept 18-20th! There are around 40 podcasts involved in this year's Los Angeles Podcast Festival. The list includes WTF With Marc Maron, With Special Guest Lauren Lapkus, Girl on Guy with Aisha Tyler, Doug Loves Movies, and many more.
Tickets are available for either the live event or the live stream (for those who can't make it to the event itself). You can buy a ticket for a specific day or a Weekend Festival Pass. Whatever fits your schedule. The live stream ticket is $25.00 for the entire three day event. All LA Podfest performances will take place at the Sofitel Los Angeles in Beverly Hills, California. Click Here for More Details.
SoundCloud Takedowns Trigger Massive Purge
Earlier this month, the company began a massive purge of files in response to takedown requests from the major record labels. These deletions don't appear to have yet affected any podcasts hosted by SoundCloud. But it seems inevitable that this will happen.Click Here to Read More.
Nintendo Fires Employee For Appearing on a Podcast
Oops. Next time make sure you check with your employer first before you go on a random podcast as a guest. Do your homework! Click Here for More Details.
Interview Tips and Techniques We Use in our Podcasts
Who are some of the better interviewers in podcasting/radio that you enjoy hearing? When you're interviewing someone, what is your goal going into the interview? What kind of preparation do you do leading into an interview? What kind of questions should you be asking? Most importantly though, to be a good interviewer you need to LISTEN.
Service of the Week
If you haven't heard of it by now then you're in for a real treat. The service is called Slack and it's an online gathering place where you can have chats amongst teams, families, etc. Slack makes it easy to keep everything as documented as possible.
Picks of the Week
Tawny – Coffee Break Spanish thanks to Always Listening Podcast
Corey – I'm Dying Here Podcast
Nick – Heads Up game app