Audio Quality – #11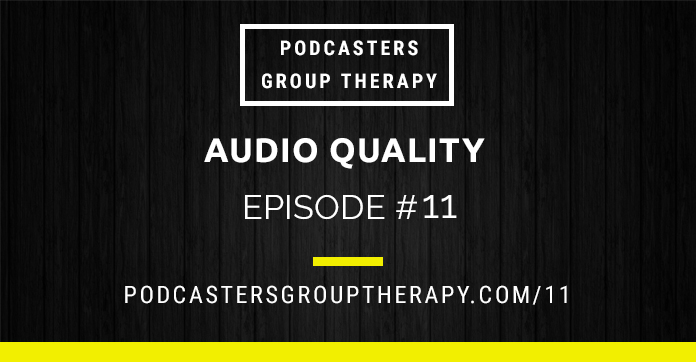 Podcast: Play in new window | Download | Embed
On this week's episode, we're discussing a topic that every podcaster has an opinion on – audio quality. How important is it and what lengths do we go to in order to achieve good audio quality?
News:
Serial won a Peabody Award! This is the first time a podcast has won this award and this is probably the most notable award a podcast has ever won. We talk about how this lends podcasting more credibility in the eyes of traditional media and the public.
Norway will shut down FM in 2017. The way that people consume audio is different and people are becoming more familiar with digital audio and streaming audio.
Podcast Midwest recently announced two new speakers – co-host of this podcast, Tawny Fineran and her Mommy's Cocktail Hour co-host, Beth Round. Tawny shares what she and Beth will be presenting at the conference. If you're in the Midwest or would like to travel to Chicago, Corey is also presenting at Podcast Midwest and we'd love to hang out with you. Use the promo codes "IvyEnvy" or "Cocktail" to save $30 on your ticket.
Audio Quality
Because we're dealing with an audio format, audio quality is a topic that is discussed at great lengths by podcasters. Many of us go to great lengths to hone in on the best quality audio we can produce. Other podcasters don't find audio quality as important. On this episode, we welcome in Rem Lavictoire from the Sci Fi Movie Podcast. Rem and his co-hosts record triple-enders and Rem champions good audio quality. In this discussion, Rem tells a very entertaining story about how far he will go to make his podcast sound as good as possible. Ever heard of a time-shifted conversation?!
We also talk about how audio quality can be secondary to content. Listeners probably don't expect the audio quality that most podcasters expect from themselves.
App/Service of the Week
Jason Bryant from Mat Talk Online makes his second straight PGT episode appearance. On last week's episode that was recorded on the expo floor at New Media Expo, Jason talked about Clammr. We invited Jason back on to talk about this service and how we can use it to promote our podcasts.
Picks of the Week
Tawny – 100 Words or Less: The Podcast (Episode 153 with Jim Adkins)
Corey – Grammar Girl
If you have any thoughts or opinions on audio quality, we'd love to hear from you. You can email your audio clips to [email protected]
If you haven't joined our Google+ community, do it! Podcasters Group Therapy Google+